PLEASE NOTE A CHANGE OF VENUE
​
Address: 725 N. 15th Street, Suite #10 - Allentown, PA 18102
AfterWords Actors Studio
AfterWords is located in the Deutsch Land Building which is situated on the corner of 15th Street and Sumner Avenue (across the street from Turkey Hill). Parking is directly across the street from the main entrance. You will enter in the door with the blue awning over it (we'll have our flag out front). Enter two doors and then you can either turn left for the elevator, or turn right for the stairs.
AfterWords is on the second floor; #10 (immediately to your left as you exit the elevator).
Welcome to a place where your story matters.
​
Whether you've never been to church or it's just been a really long time, everything we do on a Sunday morning is about creating a safe and relational environment for people to connect to and meet with God.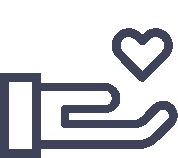 "Whoever is generous to the poor lends to the lord, and he will repay him for his deed."